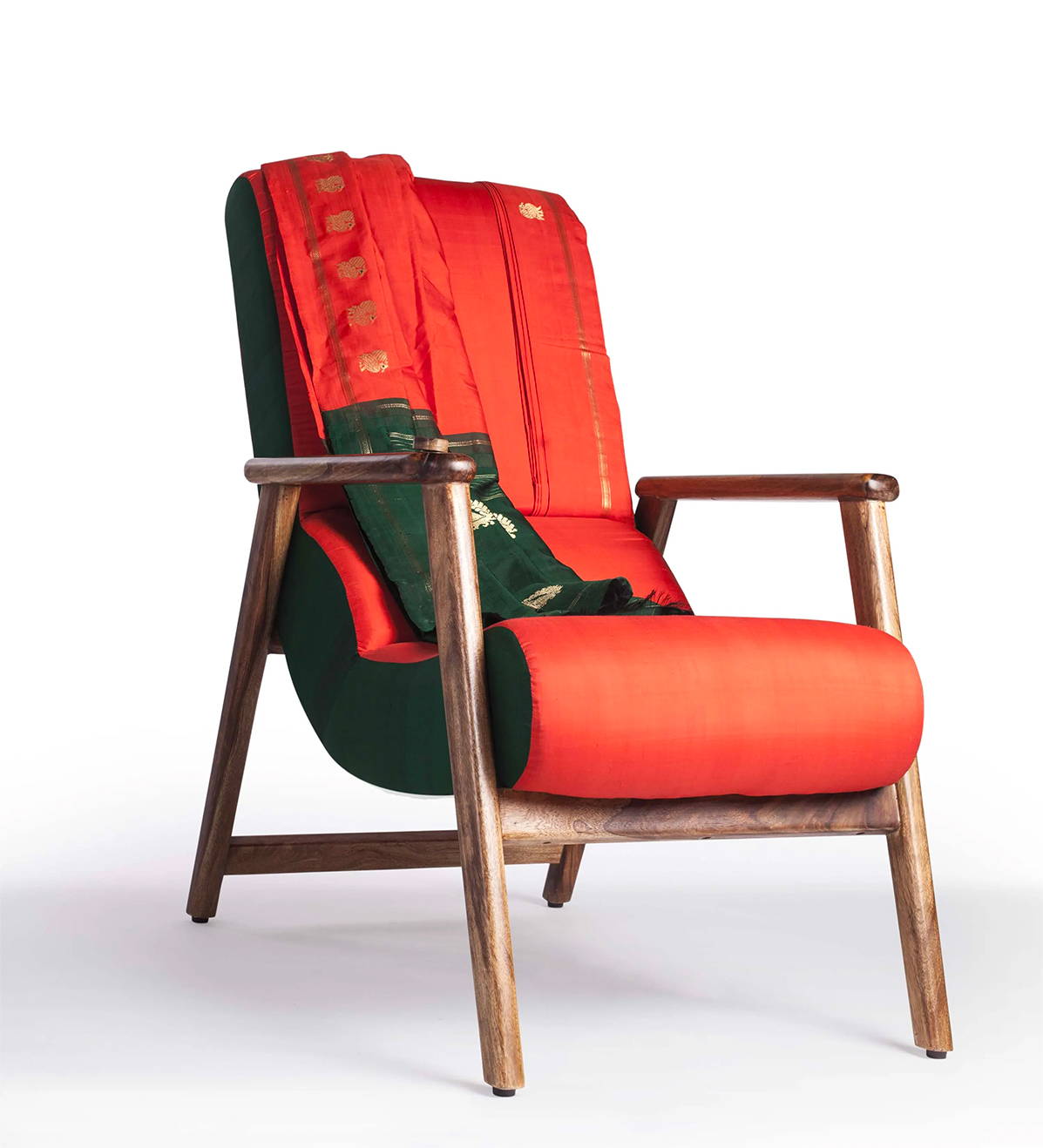 Everyone has that frayed saree they've inherited from their grandmother that they can never wear ever, but simply cannot sell either.This is where Sihasn's 'Sarees as Upholstery' service offers a solution to heirloom pieces that have suffered great wear-and-tear or are simply too out-of-fashion to be worn to a trendy sangeet. After conducting significant R&D into fabrics and understanding how they can be bonded with industrial fabrics to be used as upholstery, we at Sihasn can now take your treasured saree out of the cob-webbed corners of your closet and give you a chance to display and celebrate them as upholstery draped resplendently across your furniture.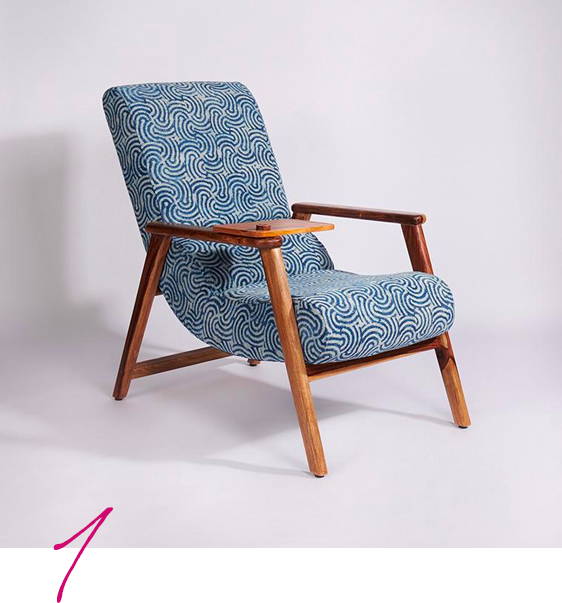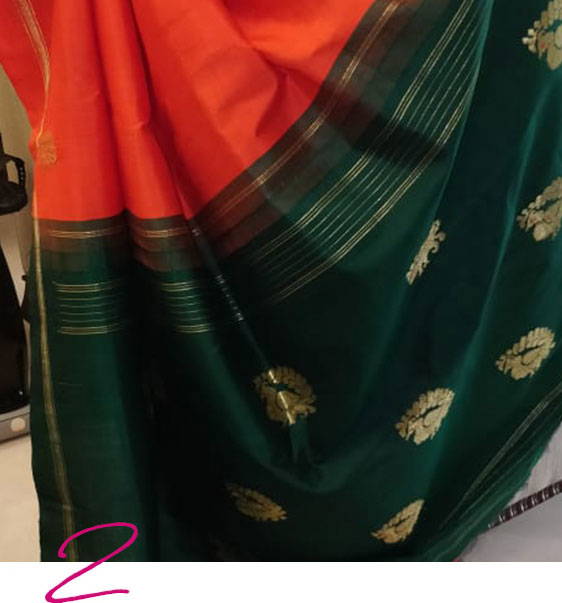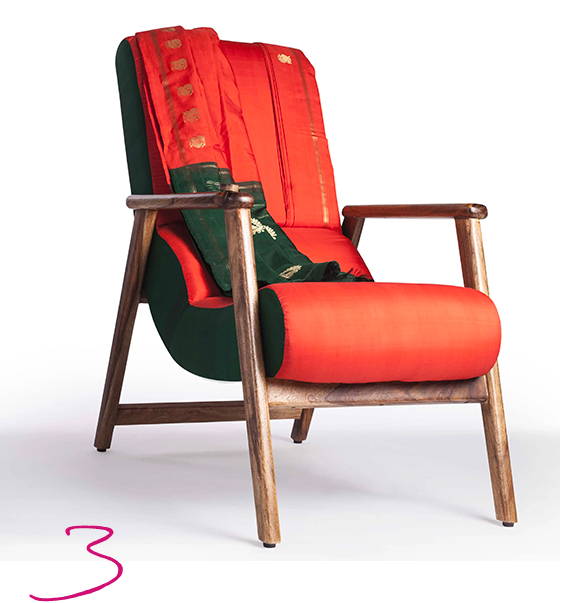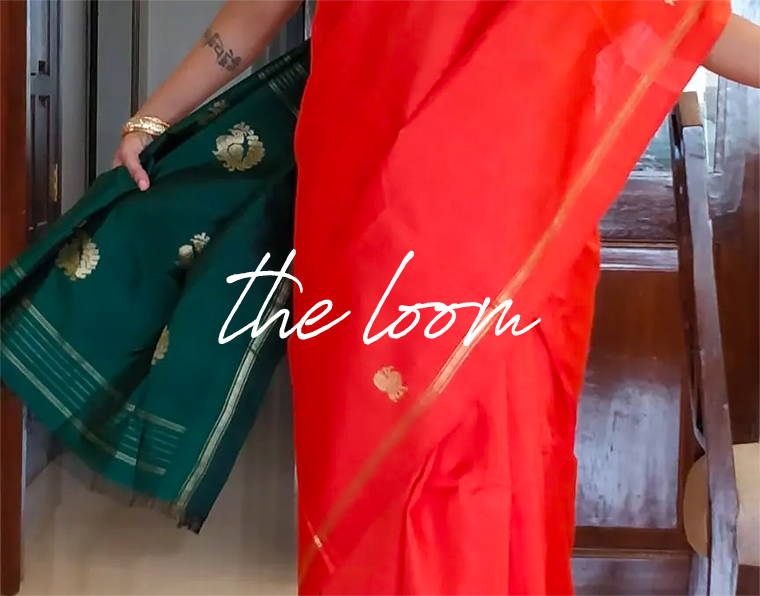 Our client sent in a saree that was an heirloom in her family. It was a rich green and orange Kanjeevaram(a type of silk weaving unique to the town of Kanchipuram in Tamil Nadu) that had belonged to her mother over 30 years ago. As with all silk fabrics, this resplendent saree was also beginning to age and fray.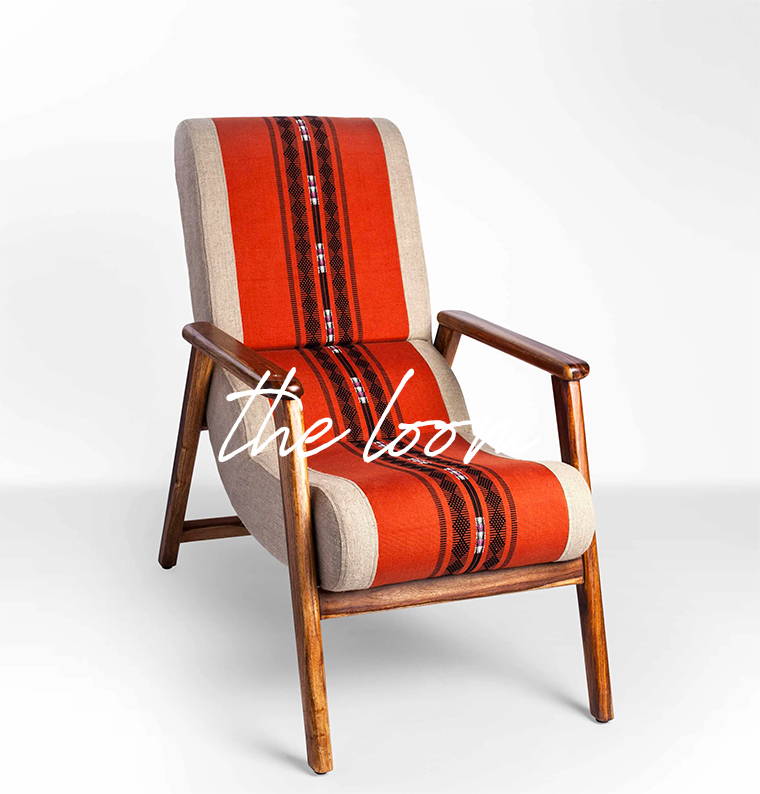 So we asked our eager client which of our Sihasn products she would like to have upholstered. Excited, she told us she wanted to have it stitched onto our Lounge chair, Nizam. So we gave her a couple of options:
• We could upholster the entire Lounge chair using the green blouse piece on the sides and the main orange wrap along the centre, and pair this with a cute Tabla(our circular storage ottoman) which we could upholster with the green pallu embroidered with gold zari
• We could upholster the entire Lounge chair and drape the green pallu such that it fell off the shoulder of the chair and looked like it had been draped on a personShe was intrigued by the second option and chose to go for it.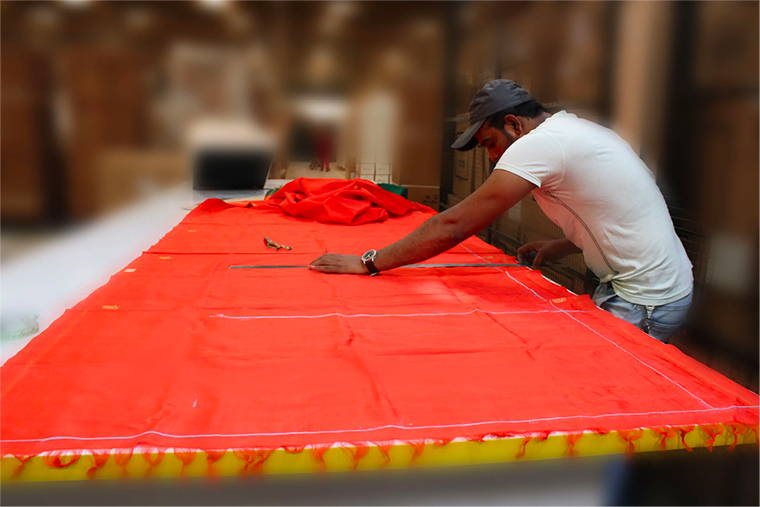 Step 1: The upholstery team measured the saree to ensure there was sufficient material to both upholster the chair as well as drape the palloo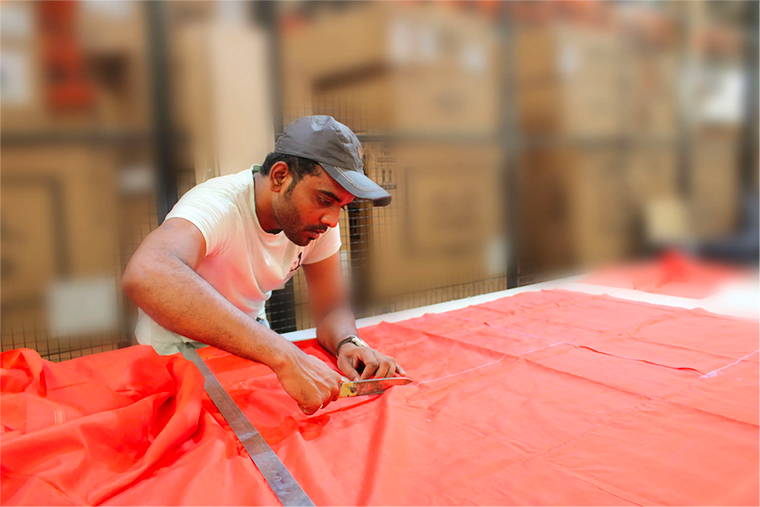 Step 2: A lot of drawing and cutting followed to create a silhouette of the Nizam with the client's saree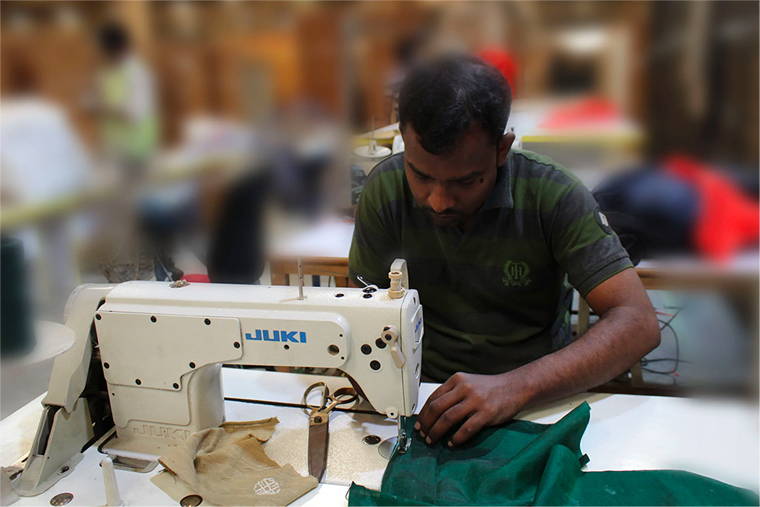 Step 3: The machine-stitching took place, which essentially made the saree like a fitting piece of attire itself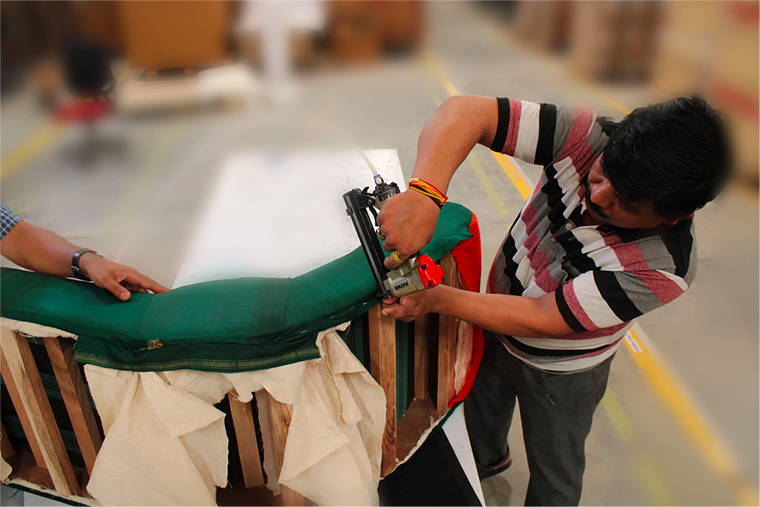 Step 4: Once the entire piece was perfectly and proportionately stitched, the upholstery team used a staple gun to keep the fabric in place, like they do with regular upholstery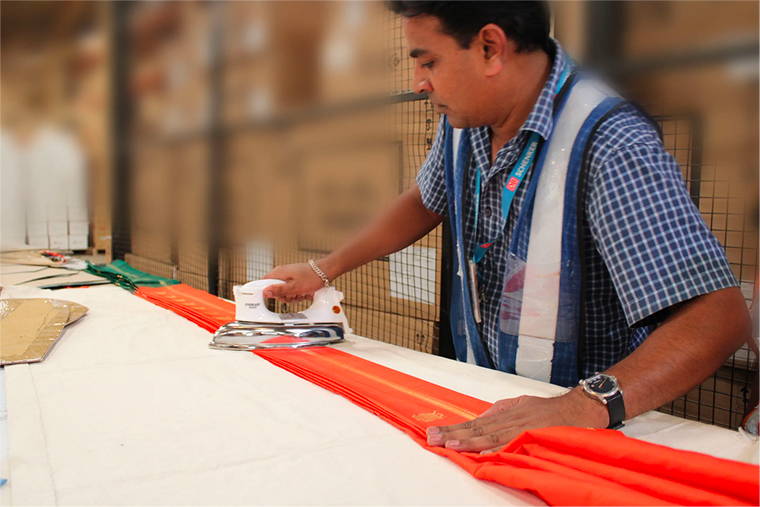 Step 5: The pallu was pleated and ironed to make it ready for the Nizam and complete the upholsteryprocess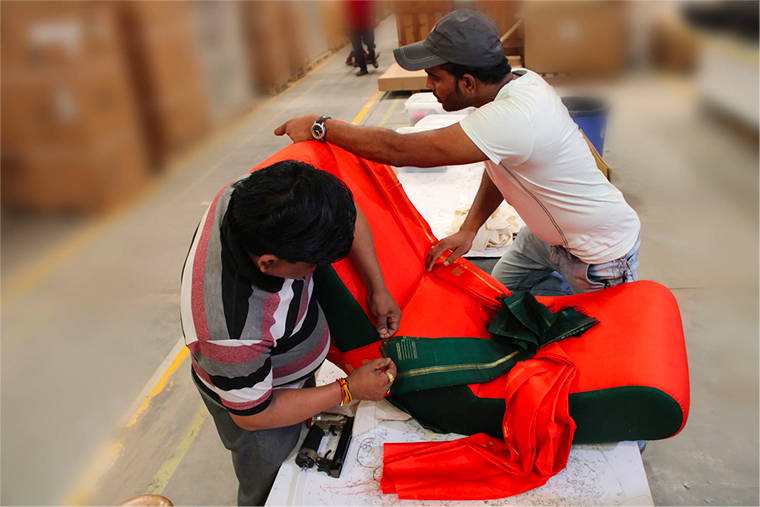 Final: The pallu was draped to resemble a person or mannequin wearing a saree - a fine, fun and fidgety appendage to play with!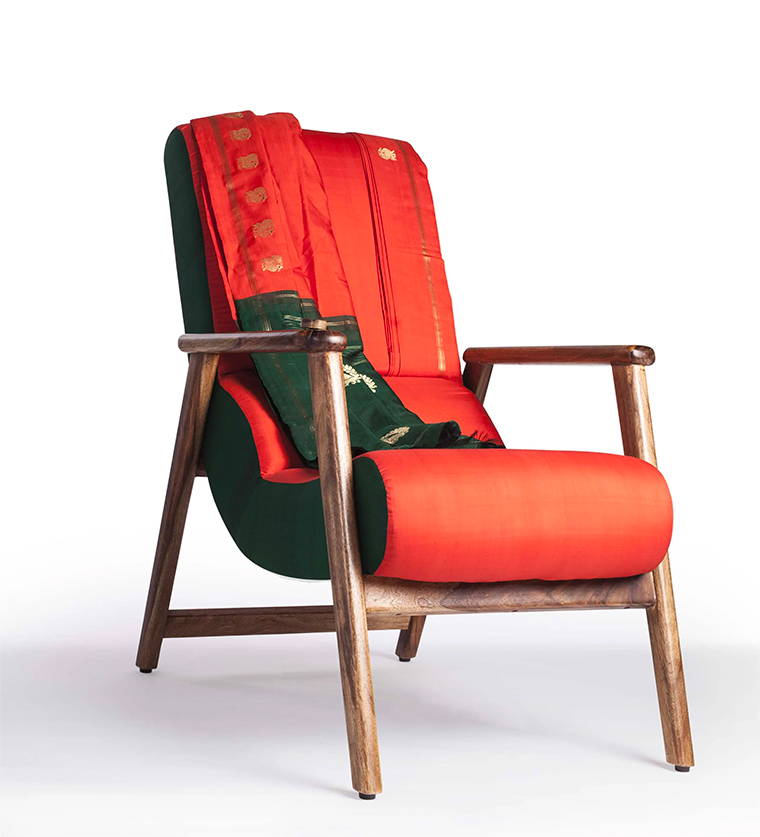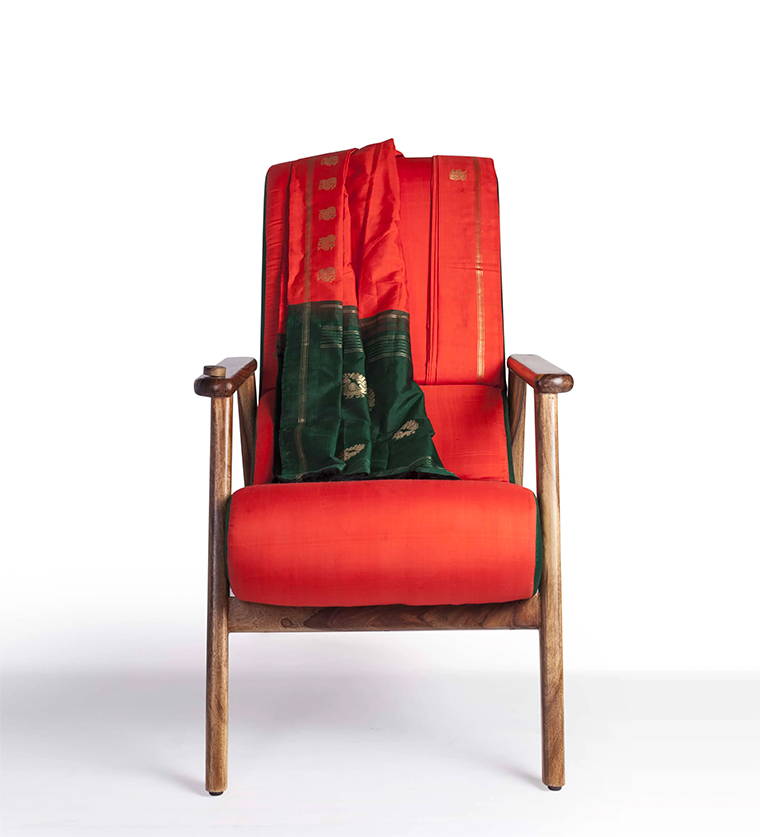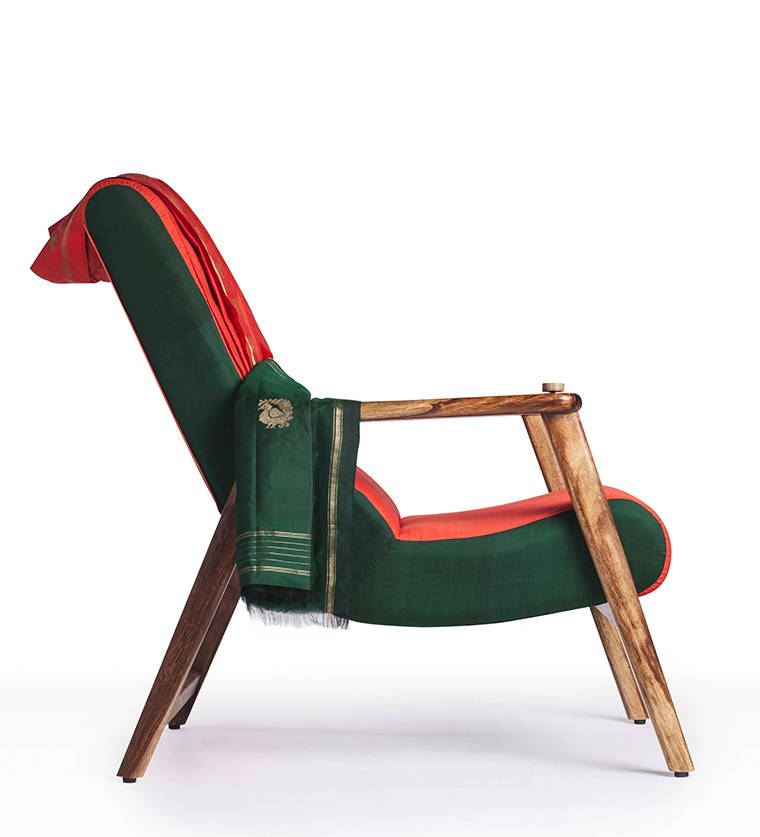 "I am so thrilled with this piece and I plan togift it to my brother! I can never think of whatto gift him, but this is something comfy andwith sentimental value. He is certain to love it!"
I am very attached to this as it belonged to my mother and it is just one of the many rare, traditional sarees I have inherited but will never get a chance to wear. Today, I prefer to wear saree gowns to weddings and other special occasions, and I like to wear and follow the latest fashion trends. There aren't any occasions to wear anything very traditional. But this Kanjeevaram is just so beautiful that I feel it's a shame that it never gets displayed somehow. I can't think of anything more ideal than upholstering a piece of furniture with it. I feel like that's a beautiful way of remembering my mother and cherishing her beautiful sarees.
The Parsi gara is a rare fabric that employs near-extinct embroidery techniques that have
their originsin China. As a result of its endangered status, the UNESCO (United Nations
Educational, Scientific andCultural Organization) has set up Parzor, an organization that
researches and documents Parsi history,art, and embroidery before they
become lost memory fragments.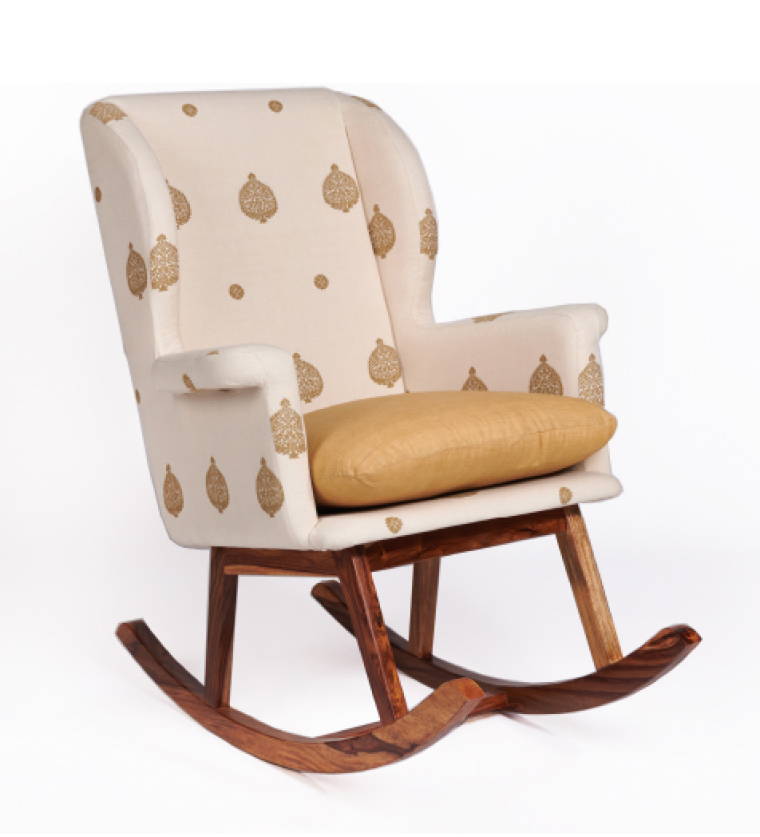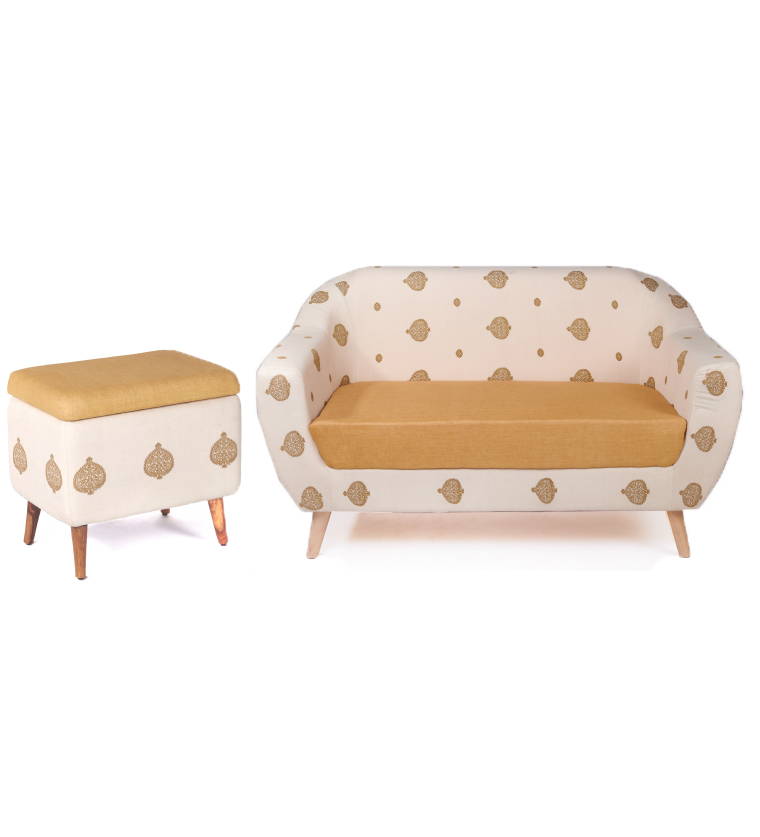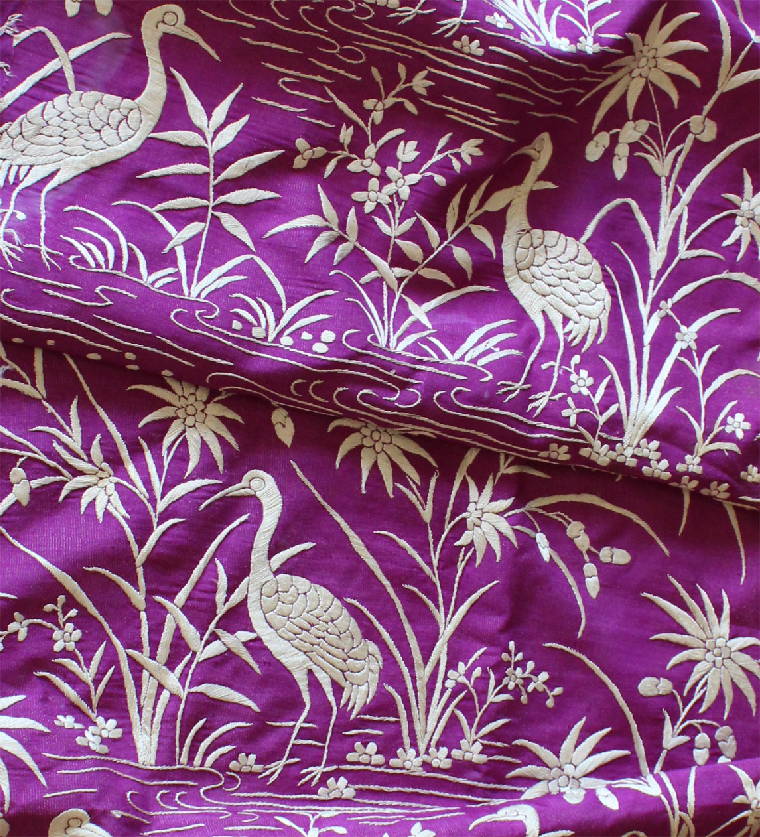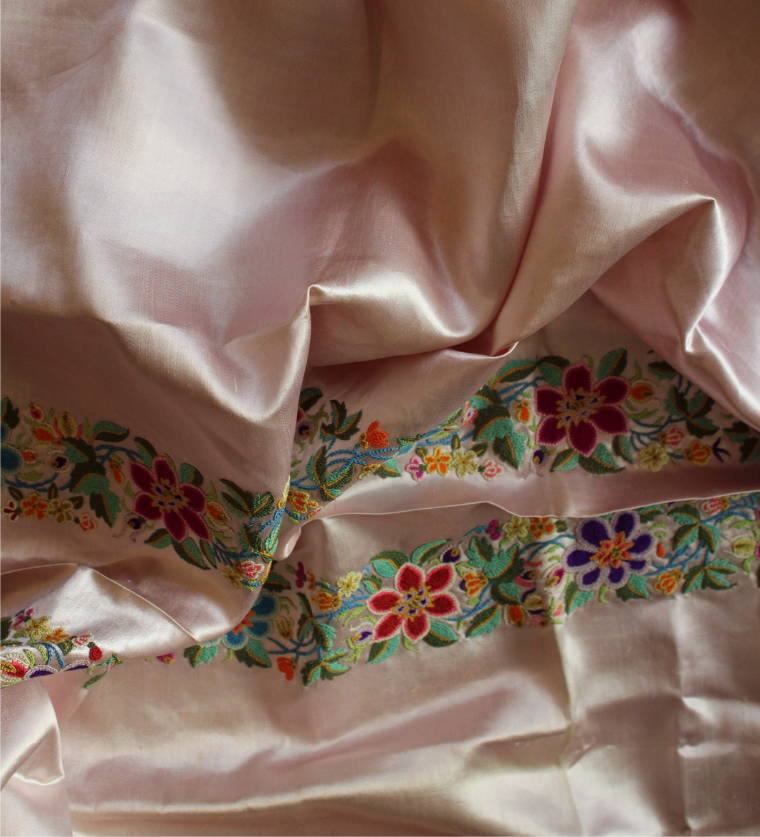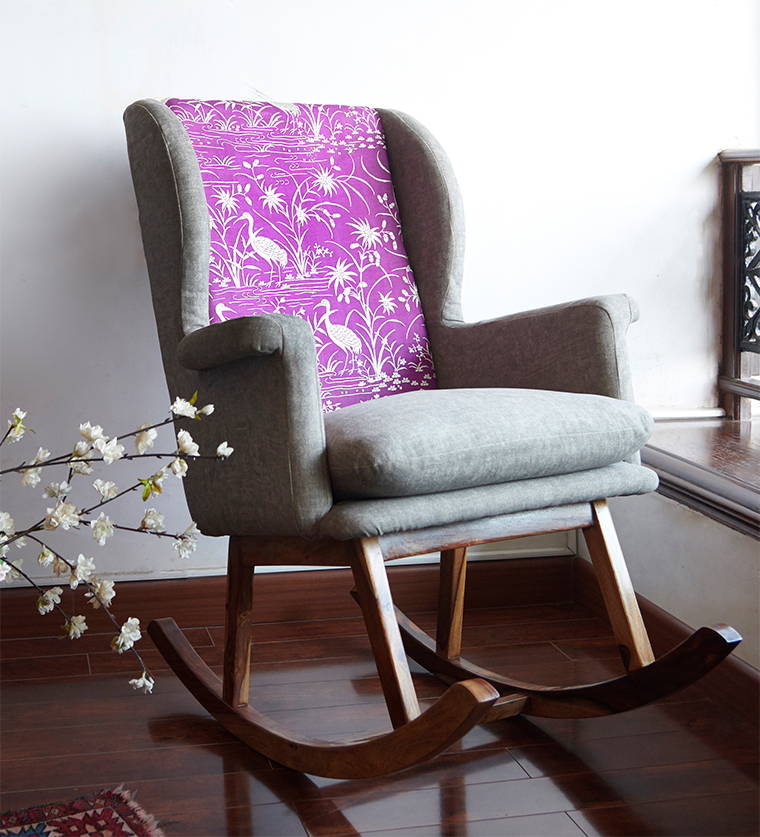 Bonding a Mysore Silk Saree with Industrial Fabric to Upholster on Furniture
Mysore Silk Saree Bonded with Industrial bonding of fabrics enables us to take extremely old and/ or fragile and/ or thin fabrics and fuse them with tough industrial fabric, making them tensile and durable for upholstering. We followed this same process that we did with the antique Parsi garas with the Mysore Silk saree as well.

Step 1: Put the Industrial bonding which fuses the Mysore silk saree with high-GSM, sturdy, tensile industrial fabric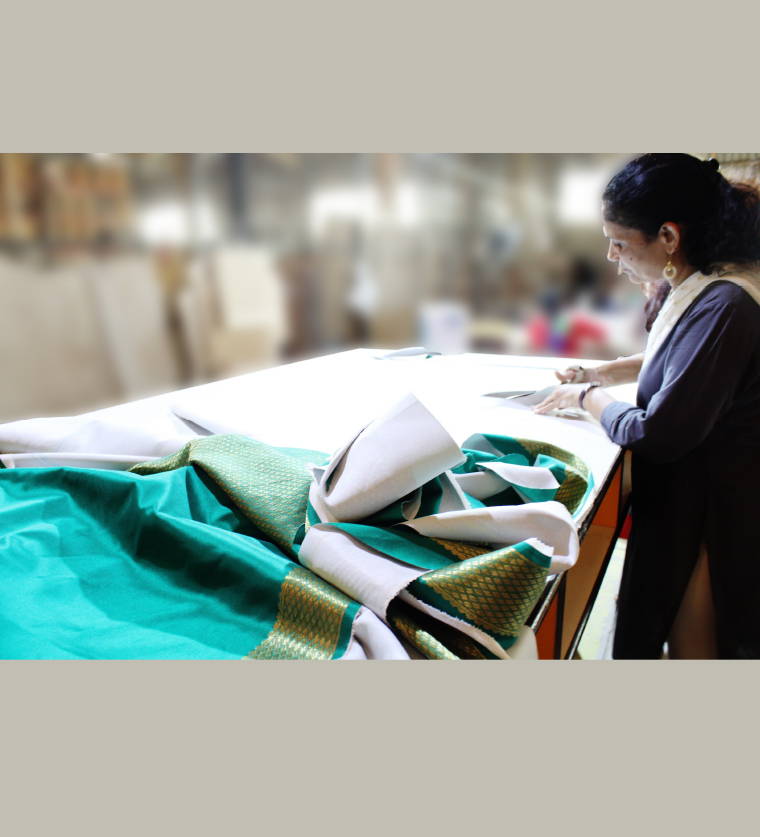 Step 2: Patterning and cutting out the patterns for the rocking chair keeping aside the palloo for the ottoman
Step 3: Outfitting and stitching the upholstery for the rocking chair before stapling the fabric to it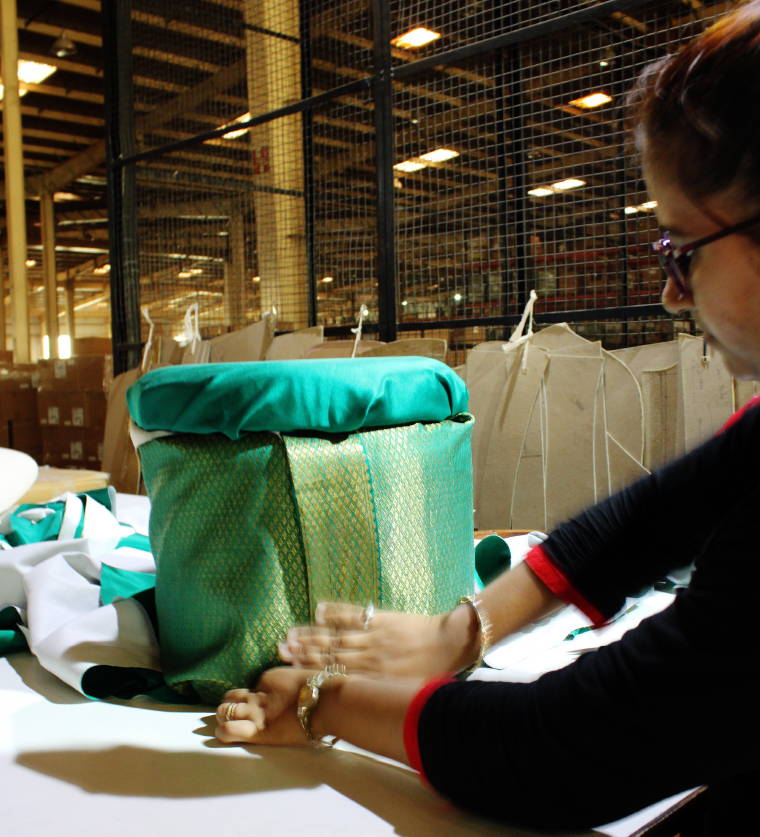 Step 4: Trying out different creative things with the glittering palloo by encircling the ottoman with it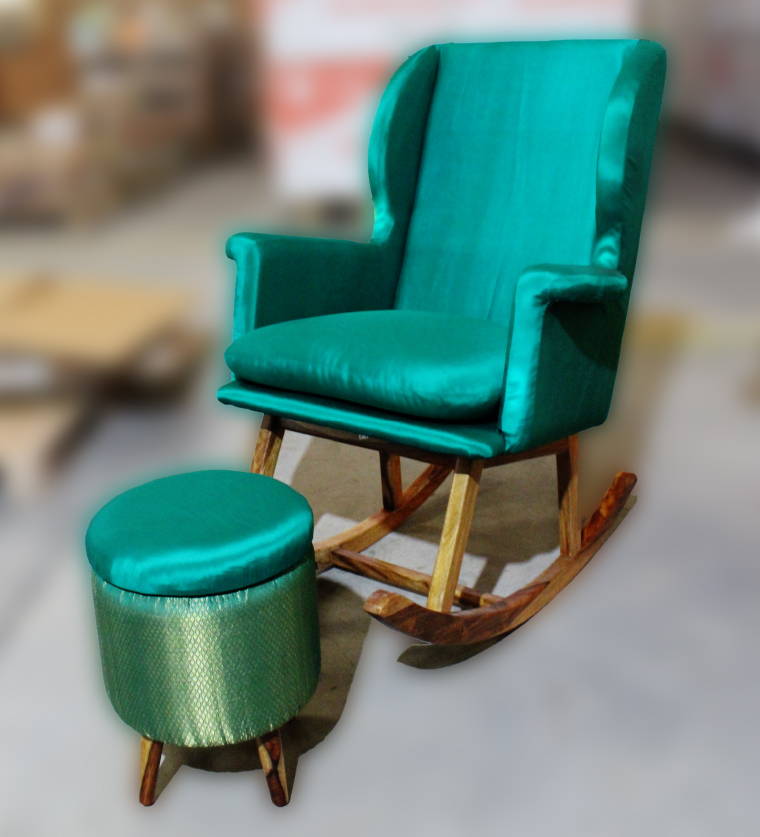 Step 5: Finally, the rocking chair – perfectly paired with the ottoman – looks spanking new and ready for dispatch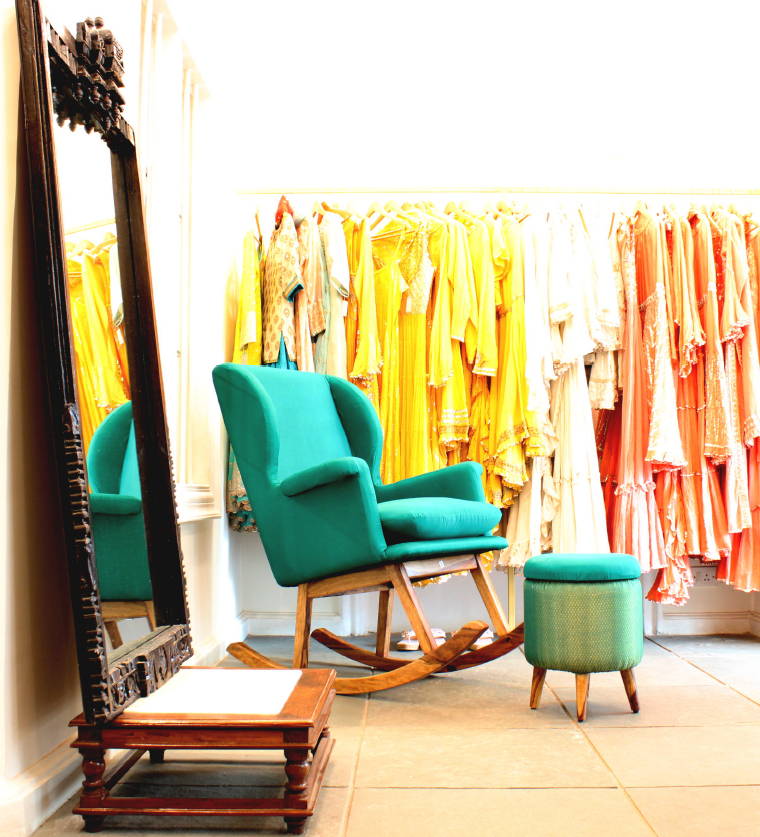 Step 6: The rocking chair and ottoman delivered to destination and looking glamorous at the luxury boutique, Raintree
We can upholster a Sihasn product for you with your favorite loom.
First, we do an initial evaluation to check to see if the loom can be used in upholstering and once it has been approved,we ask you to courier your saree to us for upholstering. Fill our customised form here or call us at 9167016580.We will get back to you soon!