Dhurries are the original rugs of India, dating as long back as 200 AD. They are woven on vertical or horizontal handlooms and employ the flat-weaving technique. Carpets that are hand-tufted, hand-knotted, or hand-hooked came to India from Persia a few centuries later. The first dhurrie-weavers were nomadic herders. It was not long after their discovery, that dhurries graced the military tents of Emperor Akbar and the palaces of Shah Jahan. During British colonialism, dhurries were a popular export product and the famous dhurries woven by the inmates of Bikaner Jail are today sold as prized antiques in London and New York boutiques. By the 20th century, dhurries were so en vogue as to bedeck the floors of the likes of designers such as Charles and Ray Eames and architects like Le Corbusier. The Indian cotton dhurrie, being warm in winter and cooling in the summer, is a favourite in both the humble huts of villagers and the palatial urban homes of millionaires around the world. Eminent dhurrie designers like Shyam Ahuja have made the dhurrie a must-have in mansions from New York, London and Paris, to Sydney, Hong Kong and Sonia Gandhi's residence in Delhi! The flat-weaving technique is what makes the dhurrie so loved; its tightness makes it resistant to insects like silverfish and durable as well. They make for versatile fabrics that can be used as decorative wall hangings like tapestries, as well as bed covers and furniture upholstery, besides floor rugs. The dhurrie warp runs the length of the rug, while patterns are woven into the weft. Those flat-weave rugs that have multi-coloured patterns woven into them are known as Kilims – still extremely popular in Turkey today. Plain-weave dhurries, however, are typically dyed and block-printed. Patterns that are woven onto Kilims and printed on dhurries tell stories about the society and families that the weavers come from. One popular Kilim motif is that of the 'Goz' meaning 'eye' in Turkish, significant for warding off the "evil eye."
Our Dhurries
Our dhurries are woven in cotton and block-printed with the indigo dye – a colour that has been used in Indian textiles since the days of the Indus Valley Civilization – by weavers of the prestigious organization, Jaipur Rugs. Rajput art and architecture were historically heavily influenced by Mughal aesthetics and sensibilities, and the Mughals, in turn, were profoundly influenced by the Mongols, Ottomans, and Persians. Consequently, many of the motifs found on Rajasthani dhurries today have their roots in regions that had predominantly nomadic and Islamic cultures – including Persia, Turkey and the Caucasus.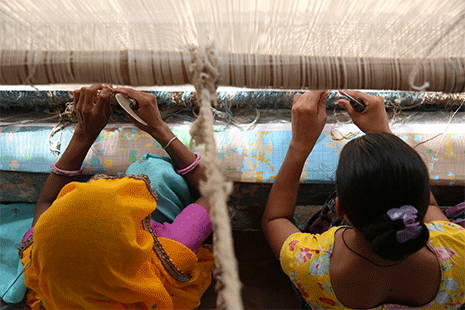 The maze-like geometric pattern on some of our durries is a ram's horn that signifies fertility.
The spiral block-printed motif is an ancient pattern dating back to Neolithic times. A fundamental pattern to be found in nature, the spiral, like many other geometric patterns, highlights the discernible influence of Islamic designs and aesthetics in Indian block-printing since the Mughal era.
The next pattern is of tulips, flowers that symbolize prosperity and which were originally indigenous to Persia until the 10th century, after which they were cultivated across Central Asia and Europe.
Another pattern – that of an ornate pomegranate – has its origins and continues to be famous in the region of East Turkestan.
The zig-zag, or "wave" pattern is known as a "So Yolu" in Turkish and symbolizes the water and local rivers that nomadic herders were familiar with.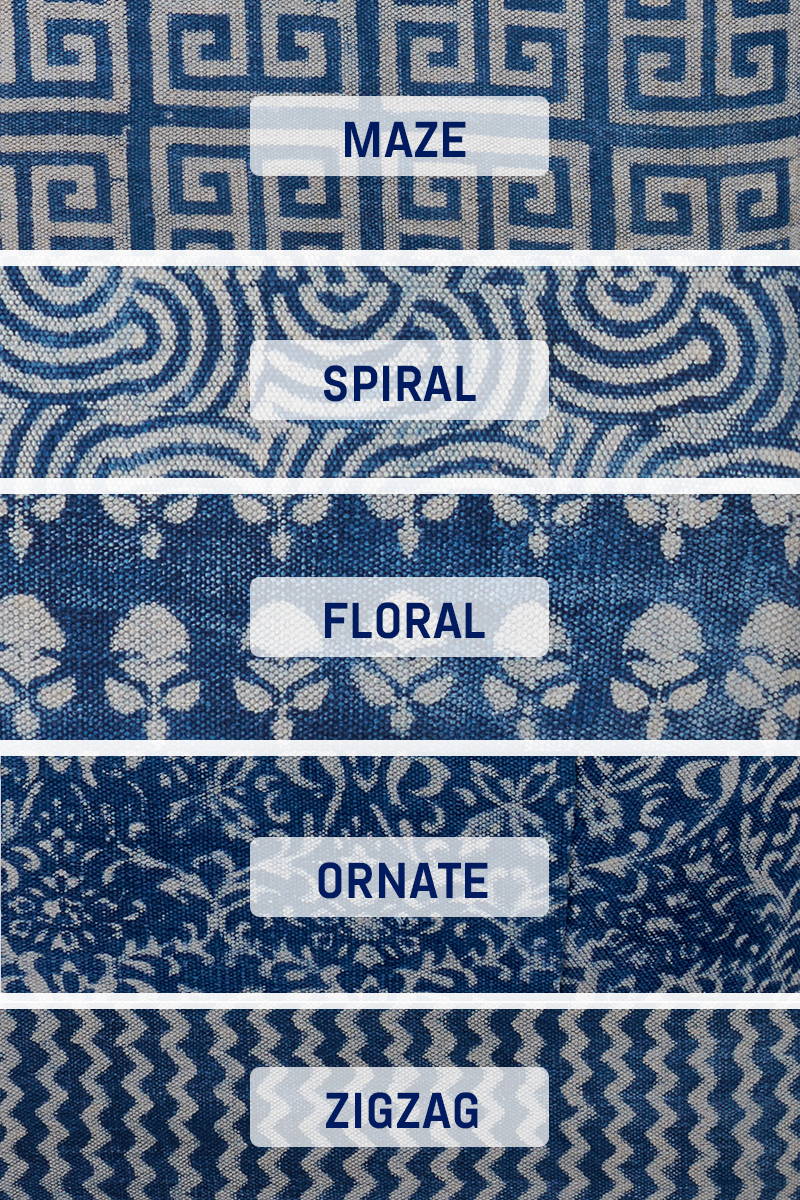 Our Inspiration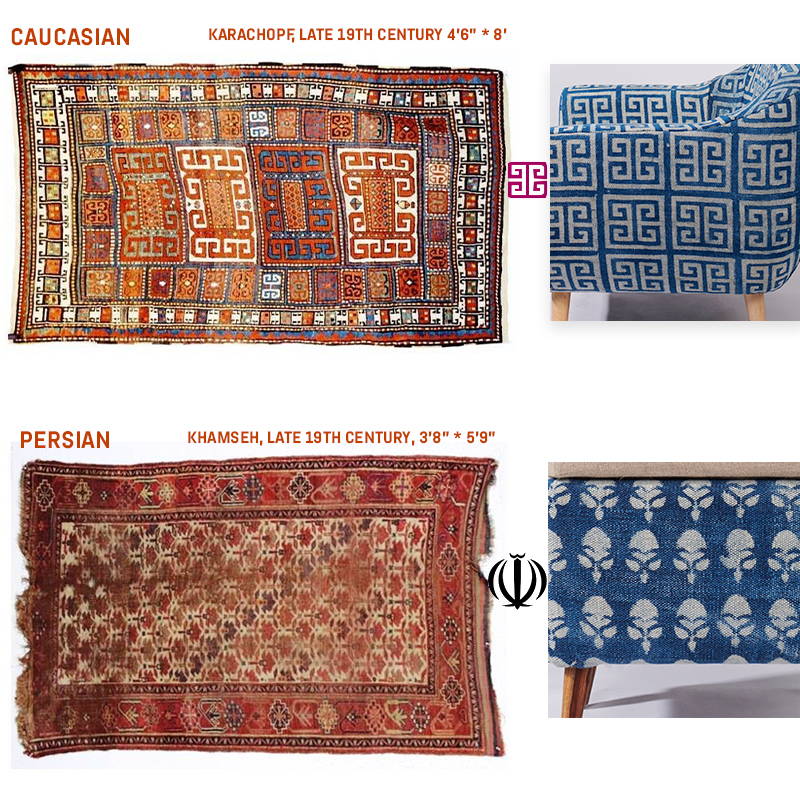 Our Maze patterned Dhurrie has been inspired from a design presented in the Caucasian rug. It has been woven for generations in Caucasian regions in Kazakhastan like the 19th century rug below.
Our Ornate patterned Dhurrie has been inspired from a design presented in the Persian rug. It is a 19th century piece from Khamesh in Iran. The emblem of Iran today remains in the shape of a black tulip.
Our Partners: Jaipur Rugs


We are fortunate to source our dhurrie fabric from Jaipur Rugs, a grassroots organization that was started by social entrepreneur and visionary Nand Kishore Chaudhary in 1978. Today, it is one of the largest companies making hand-knotted rugs in India, employing over 40,000 artisans in the rural areas of Rajasthan, Gujarat, Uttar Pradesh, Bihar and Jharkhand. Chaudhary's pioneering work with Jaipur Rugs has been featured as a case study in C.K. Prahalad's "The Fortune at the Bottom of the Pyramid." Most of Jaipur Rugs' artisans are women whose lives have been positively impacted by the livelihood, income, and dignity that rug-making has granted them. Furthermore, hand-weaving has encouraged creativity, revived traditions of craftsmanship and preserved the artistic heritage of rug-weaving that has been in India for several centuries. Jaipur Rugs Foundation, the non-profit arm of the company, has taken the company's work a step further by empowering the weavers with skills and knowledge through entrepreneurship development activities to make them economically independent and their livelihoods, sustainable.