The origin of the word, 'Crewel,' is a mystery. Some people believe it was derived from the medieval Welsh word, 'Krua,' meaning wool, probably because traditionally, heavy wool yarn was used in this type of embroidery. Today it is a term used for a type of running stitch. The origin of the crewel stitch are just as mysterious as that of its name; some fragments of crewel embroidery dating back to the 1st Century B.C. have been found in North Mongolia. It became prevalent in Britain from the 5th Century A.D. onwards, and reached its heights of popularity in the 16th and 17th centuries when the East India Company established trade with India and imported stunning crewelwork from Kashmir. The British began manufacturing steel needles on a large scale and commissioned all manner of embroidered furnishings from tapestries and furniture upholstery to cushion covers and bed-spreads. All the major check-points on the Silk Road were familiar with crewel embroidery.
Crewel embroidery is essentially a running, chain stitch that is tightly embroidered with a hook or pointed crochet – referred to as the 'aari' in India – to create solid patterns. The compact stitching magnifies the richness of the designs. Crewelwork gives the concerned craftsman the most freedom of expression of any form of embroidery. It is not necessary to draw or stencil a design to do crewel embroidery. Typically, 2-ply wool yarn was used in the stitching process, which was done on cotton, linen, or silk. Today the permutations of yarn on fabric are innumerable; embroiderers have started using fabrics like matka silk, cotton velvet, silk organza, and even jute. Our Kashmiri embroidery is done using 3-ply silk yarn on cotton.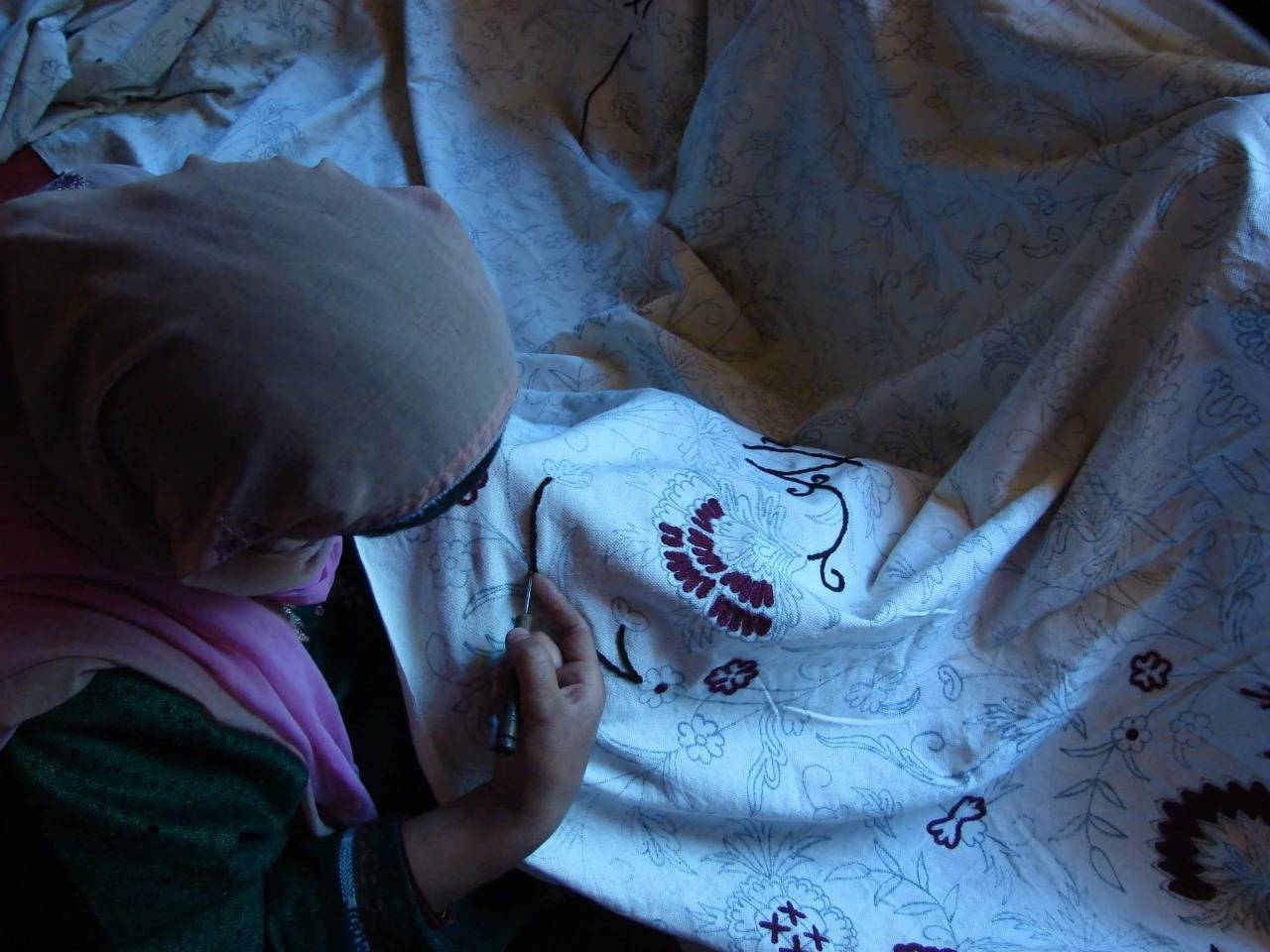 The motifs embroidered are primarily floral and are inspired by favourite blossoms in the horticultural regions of Kashmir including Pamposh (lotus), Gulab (rose), Sarav (cypress), Dainposh (pomegranate), Sosan (iris), Sumbal (hyacinth), and Yambarzal (narcissus). Other motifs that tend to be popular in Kashmir are those of animals (lions, rabbits, horses, deer), birds (bulbuls, partridges, herons, ducks) and even the samovar, or tea-pot native to Kashmir.
Kashmir has a rich and ancient tradition in hand-embroidery. It has been influenced significantly by fellow craftsmen of the Silk Road such as the Mongols, Moors, Turks, and Persians. 'Aarikaam' or crewelwork, is only one type of embroidery native to Kashmir. Also known as 'Zalakdosi,' 'Aari' is one of three types of running stitches referred to as 'Kashida' – the other two being papier-mâché stitching and Sozni (also known by the term, 'Suzani,' in Uzbekistan), which is a satin running stitch. Besides Kashida, there are many other forms of Kashmiri embroidery including 'Chikandozi,' 'Rezkar,' 'Poshkar,' and 'Watchikan' that are distinguished and identified by the type of stitch they use such as the darn stitch, stem stitch, herringbone stitch, and knot stitch. In recent years, luxury fashion houses from around the world have been raving after Kashmiri embroidery. In India, haute-couture designer, Rohit Bal, released a collection called 'Gulbagh' in 2014 showcasing resplendent Kashida embroidery, and Manish Malhotra followed in 2018 with his own 'Inaya' collection.
Our Kashida Aari embroidery is from an organization based in Srinagar called 'The Crewel.' Founded in 2013 by young entrepreneur and visionary, Jahangir Bhatt, a post-graduate in Handicrafts Management from the Crafts Development Institute in Srinagar, The Crewel started with just 20 women artisans living in Wasak Nag in the Kulgam District; for them, the embroidery work provided a secondary source of income after horticulture. Hailing from Kulgam himself, Jahangir saw the latent opportunity in Aari embroidery given the lower material costs required for the handicraft as compared to material costs of the more popular and ubiquitous pashmina craft.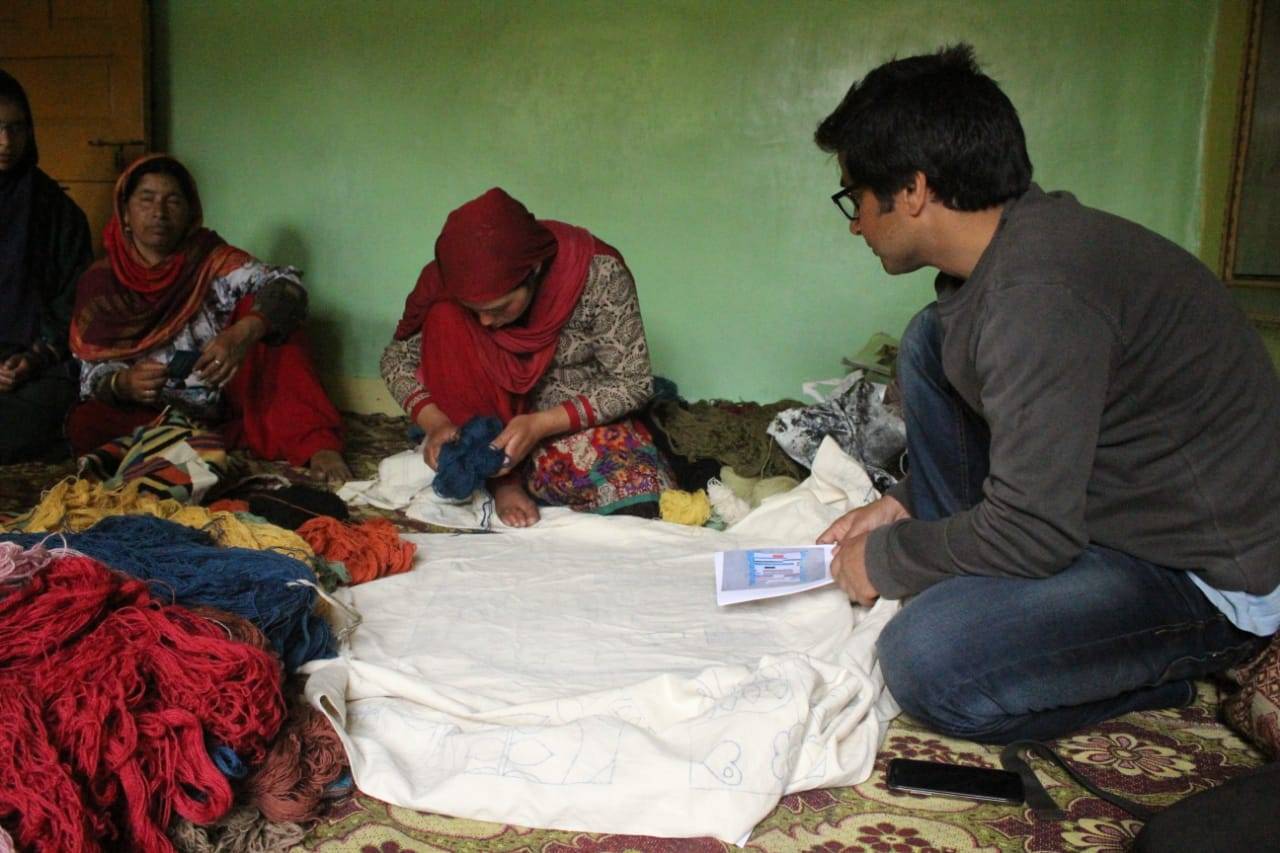 Under Jahangir's adept guidance, The Crewel adapted a traditional craft to modern designs and colours to produce some of the most exquisite silk-embroidered dhurries that glimmer radiantly as they are unravelled. The painstaking work, hours of commitment, and steady patience that go into creating a single piece measuring two square-meters should not be underestimated; for every one-square inch of embroidery, there are approximately 100 stitches required. It can take an artisan anywhere from 1 to 2 days to complete one square-foot of embroidery. The Crewel's 2 square-meter pieces require about 3.4 lac stitches each! Working full-time, it can take up to 1 month for an artisan to complete just 1 piece, but given that The Crewel's artisans are primarily into agriculture and horticulture, 1 piece can take anywhere from 2 to 4 months to complete! Furthermore, in recent years, the costs of living have continued to mount for the embroiderers. Consequently, the costs of producing Aari-embroidered fabric have also risen. Despite the hurdles, The Crewel's success has enabled the organization to expand to Anantnag and involve entire communities in creating its products. Not only has an ancient craft been revived and reinvented, it has become an important source of livelihood and employment for many Kashmiri families.